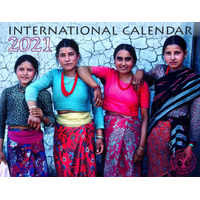 New System this Year due to Pandemic
Check out this spectacular calendar produced annually by the Madison RPCV group. It features photos of people and communities of the countries where Peace Corps works as well as many interesting facts about the countries and special events to commemorate every day of the year. Beautiful note cards with Peace Corps and international themes are also available.
These calendars serve as an annual fund-raiser for the NorCalPCA Grants Program that provide funds for community development projects all around our planet!
Normally we sell calendars at events such as picnics, but no gatherings are currently planned. The Madison RPCV group has offered to sell calendars online for us and do all the shipping during the pandemic
$14.00/each + S&H
Use the NorCalPCA Discount Coupon Code: PC4RPCVNCAL
If you do not enter the COUPON CODE NorCal will not receive the funds for Grants.

click below to purchase calendar(s) and more on the Madison RPCV website!
If you have questions, please contact Susan Neyer susanneyer@astound.net or 925-933-4490.
---