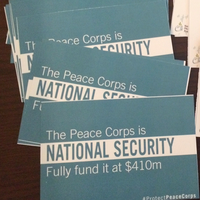 On May 23rd 2017, the Trump Administration announced its proposal to cut almost $12 million from Peace Corps' present budget, lowering it to $398 million for fiscal year 2018. This amounts to the largest proposed cut to the Peace Corps by a president in over 40 years.
Considering the challenges we currently face at home and abroad, the proposed cuts represent a serious step in the wrong direction. You can read more about these proposed cuts in NPCA's Press Release.
In light of this news, we must step up our #ProtectPeaceCorps campaign, convincing Congress to maintain level funding at $410 million.
What you can do right now:
Urge Congress to protect level funding for Peace Corps.
Invest in the Peace Corps community's advocacy work to ensure Peace Corps' future.
To do more:
With your help, more Americans will experience Peace Corps service the way you did and more communities will benefit from their presence. We are thankful for your continued commitment to Peace Corps ideals.
Questions or comments? Email Advocacy@NorCalPCA.org
---