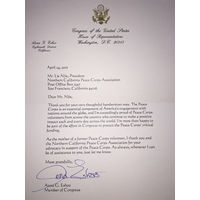 Peace Corps Budget
The latest FY17 budget includes level funding for the Peace Corps through September. All of our cards, calls, and emails likely helped! The next version of the FY18 budget is expected to be released around May 22 (earlier versions showed a ~30% cut for International Affairs).
Reps on Recess
Our house representatives should be home on recess from now until May 15. This is a good time for in-person meetings and also to attend town halls.
Postcard Campaign
Join NPCA's #ProtectPeaceCorps Postcard Campaign by printing your own or attending one of NorCalPCA's upcoming Postcard Writing Partiess in San Francisco or the North Bay. Resources are available to print a template, see sample text, and read an instructional toolkit.
Let Girls Learn
Last week's CNN article created a stir regarding the potential ending of Michelle Obama's Let Girls Learn initiative. The current administration then denied intention of ending the program.
Health Legislation
Bi-partisan Peace Corps Health Legislation has been introduced by Congressmen Ted Poe and Joe Kennedy (RPCV). Email your representatives to let them know you support this.
Thank You Letter
NorCalPCA received a thank you letter from 18th district congresswoman Anna Eshoo after engaging with her regarding her strong participation in the Dear Colleague Letter. Thank you Congresswoman Anna Eshoo and our many representatives that advocate for and protect the Peace Corps! Thank you to all of the NorCalPCA members that reached out to their local representatives! And finally, a special thank you to NorCalPCA Board Director and Advocacy Coordinator Lila Holzman for leading NorCalPCA's advocacy efforts!
Join NorCalPCA's Advocacy Team
Fill out this short survey if you want to take an active role in NorCalPCA's advocacy efforts!
Questions or comments? Email Advocacy@NorCalPCA.org
---