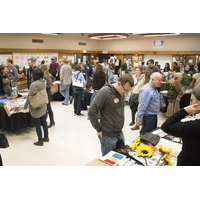 Get ready for your Northern California Peace Corps Association's 2017 Festival of Cultures and Annual General Meeting on Saturday, January 28, 2017 from 3:00 PM to 6:00 PM at the Mission Pool and Playground Clubhouse Multi-Purpose Room in San Francisco!
Our bylaws require us to hold an Annual General Meeting, where we elect Board Directors and transact other business. Then we have a big, international party we call the Festival of Cultures to reunite and celebrate the countries where we served and the experiences we had serving in them.
Our theme this time will be Peace Corps Life--so everyone who attends will have a chance to be sworn in, do volunteer work (by attending the general meeting), enjoy various aspects of Peace Corps life (including at our Festival of Cultures), and COS at the end. :) And we're also planning optional events for Saturday evening and Sunday morning, all details TBA. You won't want to miss out, so stay tuned and get ready to have a great time with your friends in your local RPCV community!
CALENDAR THIS: AGM & Festival, Jan. 28, 2017, 3:00 PM to 6:00 PM, Mission Pool and Playground Clubhouse Multi-Purpose Room, 3555 19th Street, San Francisco 94110 (19th & Linda between 19th and Valencia Streets).
CALL FOR PARTICIPANTS / VOLUNTEERS: Are you one of those amazing people who wants to help organize? E-mail AGM@NorCalPCA.org with your preferences. Some of the activities include: planning; presenting at the event; registration/information table; chairs and tables; supplies; decorations; food/drinks; signage; setup; tear down; miscellaneous help during the event; your own ideas. *Thank you!!!*
---