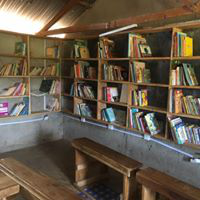 NorCalPCA's Grants Program is actively requesting donations for our next round of grants this fall!
The more funds on hand, the more we can help worthy development projects!
Donations can be made through our website or checks can be mailed to NorCalPCA, P.O. Box 2547, San Francisco, CA 94126.
NorCalPCA Grants Update!


In Fall 2016, the African Library Project (ALP) based in Berkeley California, received $2,000 from NorCalPCA Grants to provide HIV/AIDs books for school libraries in Kenya.
In a June 2017 report, we learned that the shipping container from the United States was full of books destined for 32 libraries. After a ceremony near Lake Victoria with school representatives and volunteers, the books were distributed to the correct locations "Kenyan style" in vans, wheelbarrows, motorcycles, boats, and on children's heads. Other books were distributed at Rongo University, a local partner of ALP.
Christine Helwick, Board Member of ALP, wrote,
"As often happens in Africa, however, we had a few surprises when we went to purchase the HIV/AIDs books to supplement these school libraries. The publisher (Pearson) did not have all of the titles we ordered in stock (the bad news), and because the ones they did have were already in Nairobi, there were no additional costs for shipment (the good news).
"We plan to spend the balance on 87 copies of the Hesperian book Where There Is No Doctor for our next Kenya shipment. This is the most widely used health care manual around the world. Of course, it contains updated information on HIV/AIDS, but also much more. The books will be purchased in August and held for the next Kenya shipment. We will be able to provide this life saving book to the libraries that have just arrived as well as the 60 new libraries in our next shipment." (Grants note: Purchase of the Hesperian books was approved by the Grants Committee.)
Learn more about ALP at www.africanlibraryproject.org. Learn more about Hesperian books at www.hesperian.org.
Questions? Comments? Email Grants@NorCalPCA.org
---