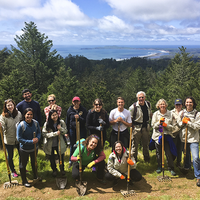 A big THANK YOU to all the volunteers who braved the wind, rain, and even hail during the NorCalPCA Spring Day of Service at Point Reyes National Seashore!
On Saturday April 8th, 20 RPCVs and two friends grabbed their gloves, work shirts, shovels, and McLeods and headed up the Meadow Trail. The crew of RPCVs spanning in service from the early 1960s to recently returned worked over four hours clearing and repairing drainages over five miles of trails. A job well done! In proper RPCV fashion, everyone celebrated the hard work over burgers and beers, fruit salad and carrot cake during the post-service potluck BBQ. Thank you NorCalPCA for helping fund the BBQ (not the beer of course).
For over 20 years, NorCalPCA RPCVs have been volunteering with the Trails Crew at Point Reyes. This year we said a special congratulations and goodbye to long time staff member and RPCV Dorcy Brownback-Curth who retires this month after 30 years at Pt. Reyes. But not to worry-- she has not moved far and we look forward to her joining us in October as a RPCV volunteer for our Fall Service Day! We hope to see you there, too!
See more pictures from the 2017 Point Reyes Spring Service Day here!
Do you want to volunteer with NorCalPCA? Take this survey!
---