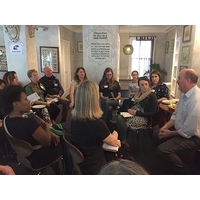 What can we at NorCalPCA do to help?
Take Action!
On Thursday, March 16, NorCalPCA members gathered to discuss the new challenges the Peace Corps is bracing for within the context of the recently proposed "skinny" budget released by the new administration on the same day.
We'd like to thank NPCA President Glenn Blumhorst for coming out to give us a thoughtful update on the current situation and for answering our many questions. We'd also like to thank Hostelling International San Francisco City Center for graciously hosting this event.
The energetic group of RPCVs learned that while the proposed budget suggests that International Affairs (the category under which the Peace Corps sits) will be cut by 29%, the proportion by which the Peace Corps itself will be cut remains undefined. Also acknowledged was the fact that this proposed budget is unlikely to pass as it is; nevertheless, it can be interpreted as a signal of this administration's intentions. Many of us who passionately recognize the importance of the Peace Corps' mission and work are rightfully concerned. International Affairs are already only about 1% of the federal budget, and such drastic cuts are unjustifiable.
Blumhorst recommends three easy action items:
1) Create an account with NorCalPCA and NPCA to stay in the loop! (It's quick, easy, and free!)
2) Step up when actions are requested.
3) Donate to NorCalPCA's General Fund and NPCA's Advocacy Campaign!
Urgent Action Item for THIS WEEK (the deadline is March 24!)
The NPCA is helping to garner support for a Dear Colleague Letter on Peace Corps funding that was written by Congressmen/RPCVs John Garamendi and Joe Kennedy.
1) Check if your congresswomen or men have signed onto the letter here.
2) If they haven't signed on yet, write them! Call them! Better yet, go say hello in person! If they have signed, feel free to reach out anyway to say thanks!
3) Find resources to help you make those calls here.
Interested in helping?
Should we have a postcard-writing party this week or a phone bank? Can we get Op-Eds and Letters to the Editor into our local media? Which 3rd party supporters can help amplify our voices? Perhaps a campaign with short video stories, showcasing the value of the PCV experience? Please fill out this short survey ASAP if you can help with any of these ideas or others!
Please email Advocacy@NorCalPCA.org if you have any questions.
---