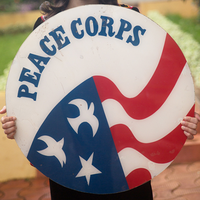 Thank you NorCalPCA members!
Advocacy efforts a record-breaking success!
Now time to thank members of congress!
Peace Corps Funding Dear Colleague Letter
Over the last two weeks of March, affiliate groups all over the country supported NPCA's effort to get as many members of congress as possible to sign onto the House Dear Colleague Letter on Peace Corps funding, put forward by RPCV/Congressmen John Garamendi and Joe Kennedy. The letter has now received a record-breaking 175 signatures! This beat last year's benchmark by 11– an impressive feat! This Dear Colleague Letter is typically known as one that garners more support and more bipartisan support than most others for different appropriations causes. Thank you to all of you who took the time contact your member of congress or fellow RPCVs regarding this issue!
Charm Offensive
It is now time to say thank you to all those members of congress who did sign our Dear Colleague Letter or who generally show their support of the Peace Corps and International Affairs. At a time when many of our representatives may be facing tense responses at Town Halls or through other methods, supporting the Peace Corps can provide them an opportunity to shine and embrace some rare political positivity.
Looking for easy ways to say thanks? Check out the #ProtectPeaceCorps website for quick links and tips to send emails, call, write post-cards, prepare for a Town Hall, or write a Letter-to-the-Editor
If you'd like to join NorCalPCA's Advocacy Group,
please fill out this survey by April 7th.
Please email Advocacy@NorCalPCA.org if you have any questions.
---