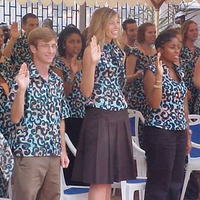 The Peace Corps urgently needs your help!
A document vital to Peace Corps' future is now circulating in the Senate: The Peace Corps Funding Dear Colleague Letter (co-authored by California Senator Dianne Feinstein and Washington Senator John Isakson). By signing onto this letter, Senators pledge to support robust funding for the Peace Corps for fiscal year 2018.
But the turn-around time is short. Senators have until this Wednesday, June 14 (extended from June 9) to sign the Dear Colleague Letter. That's our deadline, too!
Please urge your Senator to sign now!
Call California Senator Kamala Harris:
DC - (202) 224-3553; SF - (415) 355 - 9041; Sacramento - (916) 448 - 2787; Fresno - (559) 497 - 5109
With the president's proposed cuts to the Peace Corps—potentially denying many more Americans and host country communities the opportunity to partner in peace, progress, and understanding—it is up to Congress to restore the agency's resources.
Two minutes of your time could mean another American has the opportunity to serve our country and fuel the next generation of American leadership.
Thank you!
Questions or comments? Need a phone script? Email Advocacy@NorCalPCA.org
---