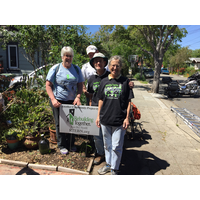 On Saturday, April 30, 2016 a small but energetic group of Returned Peace Corps volunteers joined thousands of others across the country working on Rebuilding Together community projects.
Rebuilding Together is a national organization dedicated to helping low-income seniors and disabled homeowners. The goal is to provide free critical repairs, accessibility modifications and energy efficient upgrades to help community members remain in their homes. Many of these people are facing physical and financial hardships, so the efforts can be quite significant.
For several years, NorCal PCA volunteers have joined in this effort, providing a variety of skills as broad ranging as electrical work, minor construction efforts, glazing and painting, yard work, as well as general cleanup and maintenance. The work done has contributed greatly to the improvement of living conditions for the homeowners.
Many thanks go out to this year's volunteers: Lie Njie, Vern and Ryan Phillips, Greg Bellas, Kirsten Setterholm, Chris Donahue and Kathy Day. Your efforts were greatly appreciated.
Mark your calendar now for April 29, 2017, and join in next year's national effort.
---