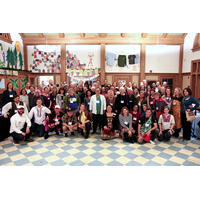 Many thanks to all who attended and volunteered at our 2017 Annual General Meeting and Festival of Cultures on January 28 at the Mission Pool & Playground Clubhouse in San Francisco!
Annual General Meeting

In conjunction with the Annual General Meeting, we elected 8 new board members! They are Kirsten Borash (At-Large), Gary Chen (SF Alternate), Sandrena Frischer (North Bay), Lila Holzman (At-Large), Michael Hotard (South Bay), Anthony Toney (East Bay), Holly Uber (South Bay), and Jeff Zundel (South Bay). Three current board members were also re-elected. They include NorCalPCA President Lie Njie (At-Large), Noah Brod (East Bay) and Ella Dowell (At-Large). Get to know more about our board members here.

Membership voted to approve the proposed ByLaws changes (special thanks to Pete Johnson for helping us to prepare these and to Karen Keefer for commenting on them). Read our new ByLaws here.

Finally, members also voted on a new logo for NorCalPCA. The winning logo, pictured to the right, was designed by Judy Stolzfus, At-Large Board Director Noah Brod's close family friend and a big fan of the Peace Corps! Check out her website judysdesignhouse.com.

Lie Njie, Marilyn Hyde, and others then provided a detailed summary of where we've been and where we are headed as an organization.
Festival of Cultures
After the general meeting, Lie led us ceremonially through the Peace Corps oath. Steven Elias followed with the icebreaker, which took us right into socializing at our Festival of Cultures. We strolled through the country and public service tables while sampling the extensive international pot luck and catching up. Many thanks to Adrianne Borgia, Dorothy Herzberg, Barbara Jue, Diane Lee, Gale Lederer, Genevieve Evenhouse, Jane Ferguson Flout, Lila Holzman, Matt Orr, Meredith Miller Vostrejs, and everyone else who provided displays for our information.
| | | |
| --- | --- | --- |
| | | Our keynote speaker was Martha Ryan, who worked with Sudanese refugees after completing her tour as a PCV in Ethiopia. Martha later returned to San Francisco and founded a nonprofit, the Homeless Prenatal Program, which today primarily serves women who are pregnant and homeless. She shared stories of clients who are now homeowners and who have earned degrees in higher education. Martha's presentation was informative, inspiring, and pertinent to work that many of the RPCVs in the audience are doing. We are grateful to Board member Jane Ferguson Flout for identifying Martha, inviting her to speak, and arranging for her to come to our event and address us. |
After that it was time to raffle off the delicious, home-brewed beer kindly donated by Isaac Pearlman. Ella Dowell took group photos, and then Lie "COSed" us to close the Festival. A few of us then participated in the after-party, at the City Center Hostel and breakfast the following morning.
Special thanks to Adrianne Borgia, Nichole Clark, Alice Impraim, Anthony Itoney, Christa Peacock, Cynthia Lamond, Ella Dowell, Gavin Robillard, Gregory Kalkanis, Hannah Center, Hilary Jacobsen, Holly Uber, Isaac Pearlman, Jane Ferguson Flout, Lila Holzman, Meg Carter, Meghan Murphy, Meredith Miller Vostrejs, Michael Hotard, Mira Brown, Noah Brod, Sandrena Frischer, Suzanne McCloskey, Terry Vogt, Tess Marstaller, and everyone else who helped organize this event. Thanks to everyone who brought a dish, set up, tore down, and attended these wonderful events!
Congratulations to all! It's going to be a wonderful year for our association!
Last year your Northern California Peace Corps Association hosted over 180 events. They were large and small; social, service-oriented, and educational; and they took place from Petaluma to Santa Cruz and from Sacramento to San Francisco.
We encourage you to organize a community event of your own this year, using NorCalPCA's resources to publicize it, fund it, and to gain support for it. Post your events to NorCalPCA's online calendar and email Events@NorCalPCA.org if you would like to request funding, resources, or volunteers for your event!
We look forward to seeing you at several of our many upcoming activities and events this coming year!
---