Michael Abkin, a Peace Corps Volunteer in Nigeria from 1966 to 1968, shared his experiences with the National Peace Corps Association.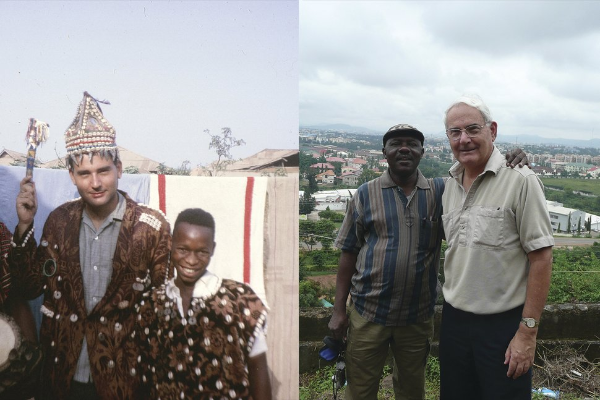 (Left) RPCV Michael Abkin with an Ondo medicine man in 1967. (Right) Mike with former student, Victor Ogunmakin, on a return trip to Nigeria in 2010.
What is your favorite memory from your time in the Peace Corps?
From 1966 to 1968, I taught French at Ondo Boys' High School, in the town of Ondo, in what was then Nigeria's Western Region. There were many expatriates in Ondo at the time, mainly Brits and Israelis building the new roads from Ile‐Ife to Ondo and from Ondo to Ilorin, as well as Peace Corps and Voluntary Service Overseas (British) volunteers and a smattering of business people.
When the Eastern Region of Nigeria seceded in 1967 and the civil war broke out, many of the Ibos in Ondo fled in fear of reprisals. One of them had tended the town's cold store, a general store with refrigerated and frozen items. He just locked it up and disappeared. This left the town, mainly its expatriates, without a ready source of the canned and other imported food items they liked that were not otherwise available in the local markets.
Kadejo Bademosi, a math teacher at OBHS and my best friend there, enlisted me in his idea to open a new cold store to serve that expatriate market. With other OBHS teachers, we formed a partnership, everyone putting up some money as start‐up capital. We scouted sites for the store and found one at the intersection of two major roads in town, deciding to call the store (of course!) Junction Stores. Some of my favorite memories are of Kadejo and I getting up in the wee hours on non-school days to catch a bus for the 100-mile trip to Ibadan to find wholesale suppliers and purchase inventory for the store. We'd then haul the loads back to Ondo in and on top of buses, vans and lorries.
On one trip, we even bought and brought back to Ondo a freezer and began selling ice cream. We wanted to do it the right way, so we registered the partnership and Junction Stores with the Nigerian authorities, hired staff and opened for business. I, of course, was listed as one of the partners. A few weeks later, I got a message from the Western Region Peace Corps office in Ibadan asking me, a U.S. volunteer, if I had gone into business!
Embarrassed at my diplomatic naiveté, I sold my shares to the other partners and technically got out of business. I still, however, continued those shopping trips to Ibadan with Kadejo, now, properly, as a volunteer. In 1970, two years after leaving Peace Corps, I returned to Nigeria on a research trip and found Junction Stores still in operation. A year after that, on a subsequent trip, it was no longer there.
How has the Peace Corps impacted your life?
In October 2010, I returned to Nigeria to attend and present a paper at the Second Regional Summit of the African Alliance for Peace, hosted by the Nigeria Alliance for Peace in Nigeria's capital, Abuja. In the last 30 years, what had been the village of Abuja had disappeared into the burgeoning, sprawling megalopolis that is now home to the government of the Federal Republic of Nigeria and the five million people that have come with it. A multi-lane, divided highway rings the city. Well, it used to ring it, anyway. The highway is still there, but the city has overrun it, leaving it in the dust of the constant construction of roads, bridges, pastel apartment blocks, gated housing communities, and satellite villages.
And the food! I enjoyed Nigerian food on this trip as never before. For fried plantain, of course, my mouth has always watered, ever since that first succulent bite way back in 1966, but the rest of it: fish pepper soup, pepper chicken, boiled yam, jolof rice, even jolof spaghetti, and washing it all down with Guinness Stout and Star Beer. I felt indeed "brighter by far."
Then, there's the story of how Victor Ogunmakin and I met. In August that year, Victor attended the Peacebuilding Peacelearning Intensive, a program of the National Peace Academy (with whom I work now) at Wilmington College in Ohio. Victor was an engineer and deputy director of strategic services in Nigeria's federal Ministry of Niger Delta Affairs. He was determined to return home to work for nonviolent conflict resolution and corporate social responsibility in the troubled, oil‐rich Niger Delta region. It turned out that this was not our first meeting!
Over lunch one day, Victor and I got to talking about Nigeria, and I told him I'd served there in the Peace Corps. The conversation proceeded from there:
Victor: "Oh, where did you serve?"
Me: "In Ondo, in what was then the Western Region."
Victor: "That's my town. I'm from there!"
Me: "Really? Well, I taught at Ondo Boys High School."
Victor: "That's my school; I graduated from there!"
Me: "Wow! Well, I left there in 1968."
Victor: "That's the year I graduated! We were there at the same time!"
Me: "Well, how about that. I was the French teacher."
Victor: "The French teacher? I was in your class!"
That's how we discovered each other again, 42 years later in a small town in Ohio.