Welcome friends! This year's Annual Picnic will be held at Nancy Boyd Park in Martinez on June 26th from 12pm to 3pm. Nancy Boyd Park was named after a Martinez local and Peace Corps volunteer who died in service, and at this year's picnic we will celebrate and rededicate the refurbished globe statue there. So join us to celebrate the start of summer, meet old friends, make new ones, and have a good time. We'll supply enough hot dogs, hamburgers, beer, condiments, and paper plates/utensils to get the party started (vegetarian/vegan/gluten-free options too). Please feel free to bring your favorite side dish, items for the grill, snacks, or additional beer/wine/liquor, etc. to share with the group.
This is an especially meaningful point in Peace Corps' history, and will be a meaningful annual picnic as well. In 2020, the Peace Corps made an unprecedented move to evacuate all volunteers from the 61 countries they were serving in due to Covid-19. After a long wait, and a lot of internal work on how to make the Peace Corps more equitable and sustainable, Peace Corps Volunteers are finally returning to service. Our annual picnic will celebrate the newly refurbished globe at Nancy Boyd Park, rededicate the globe to Peace Corps volunteers around the world, and commemorate Peace Corps' return to service.
The picnic will start at 12pm with the globe rededication ceremony at 2pm. We'll have a few special guest speakers from the National Peace Corps Association and the City of Martinez to talk about the impact that Peace Corps has had. This is a family friendly event so feel free to bring your kids, partners, friends, and furry friends (must be on leash).
If you have any questions feel free to contact Andrea Crider at (andreacrider17@gmail.com). Looking forward to seeing you at the event!
Background
Nancy Boyd was a Peace Corps Volunteer who died in 1963 in a tragic plane accident in the Philippines where she was serving. Her death had a profound impact on how the Peace Corps as a national organization came to support volunteers around the world. The globe at Nancy Boyd Park was dedicated to the Peace Corps volunteers around the world in 1965.
Logistics
Please volunteer to provide a ride or carpool with others at this link.

You can also take Bart to Concord or North Concord station and then take a bus or Lyft/Uber to Nancy Boyd Park/
Address:
Nancy Boyd Park
Pleasant Hill Rd. East & Church St.
Martinez, CA 94553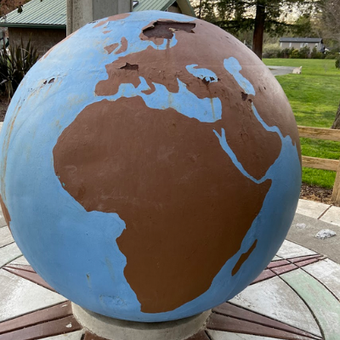 Nancy Boyd Park, Pleasant Hill Road East & Church Street, Martinez, CA 94553