The NorCal Peace Corps Association Book Club meets via Zoom on the 2nd Tuesday of the month. We may also organize in-person meetings at thematically-related restaurants as public health recommendations allow.
To suggest books, contact Pam: pamboyle@pacbell.net
For Zoom questions:,contact Janet: janet.espinosa.pchn@gmail.com
For questions about this event announcement, contact Nancy: nancy.beam@gmail.com
Info on this month's book from https://wwnorton.com/books/The-Morning-They-Came-For-Us/:
Named one of the Best Books of the Year by Kirkus Reviews and the New York Post
Winner of the IWMF Courage in Journalism Award
Winner of the Hay Festival Medal for Prose
Finalist for the NYPL Helen Bernstein Award for Excellence in Journalism
Shortlisted for the Moore Prize for Nonfiction
"Destined to become a classic." —Lisa Shea, Elle
A masterpiece of war reportage, The Morning They Came for Us bears witness to one of the most brutal internecine conflicts in recent history. Drawing from years of experience covering Syria for Vanity Fair, Newsweek, and the front page of the New York Times, award-winning journalist Janine di Giovanni chronicles a nation on the brink of disintegration, all written through the perspective of ordinary people. With a new epilogue, what emerges is an unflinching picture of the horrific consequences of armed conflict, one that charts an apocalyptic but at times tender story of life in a jihadist war zone. The result is an unforgettable testament to resilience in the face of nihilistic human debasement.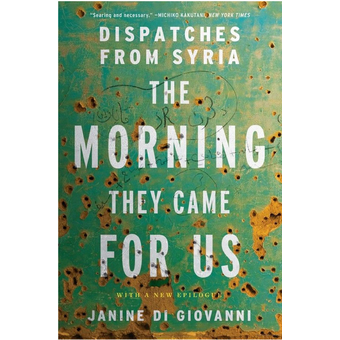 Zoom - Link provided after registration