Tour the largest light station building on the West Coast with fellow RPCVs.
A private docent lead tour has been arranged for our NorCalPCV family. This tour is open to any RPCV (and family), even if not doing the Big Sur retreat slated for the same weekend, however, those doing the retreat have a nice choice to Sunday on their way home. The road into the Lighthouse site is approximately 45 minutes north of the Retreat. Docents require vehicles to be line up along CA Highway 1 at the entrance gate at 1:30 sharp, as the docents open the gate, lead the cars in, and close the gate afterwards. Visit the website for specific directions and additional information before you sign up. If you plan to do the Lighthouse in conjunction with the weekend retreat, sign up for the retreat first to make sure it isn't already fully subscribed.
Lighthouse tour for RPCVs: Sunday 1:30PM. This 3-hour tour is just for us and our families. The cost is $15 per adult, $5 per 6–17 year-olds, and free for 5 and under.
Point Sur light station is unique, having all of its original buildings intact, including the Assistant Keepers' Quarters, the largest light station building in the West. It has been a state historic park since 1986. A lively group of volunteers keep the place alive and give wonderful tours. A fascinating museum and a delightful gift shop are on site. The hike up from the parking area is almost a mile and quite steep but the docents take their time, telling the colorful history during the many rest stops on the way up. Arrangements for walking impaired visitors to get to the top are available but must be requested at least two weeks before the visit.
Point Sur was known by sea captains as a treacherous navigational hazard area. One of the first ships to hit the rocks at Point Sur was Ventura in 1875. Starting in 1889, at night, the beam of light from the just completed lighthouse started warning ships of danger in 1889. Staffed around the clock, the beam was complimented by fog horns during the day. While it was a great aid to navigation, it didn't stop all ships from crashing into the rocks. Other ships lost in the vicinity include the Los Angeles in 1894, the Majestic in 1909, the Shna-yak in 1916, the Thomas L. Wand in 1922, the Babinda in 1923, the Rhine Maru, the Panama and the S. Catania in 1930, and the Howard Olson in 1956. New electronic beams made the old light-beam outdated, with the last lighthouse keeper moving out in 1974.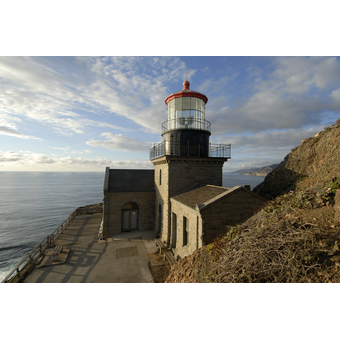 Point Sur State Historic Park, California Highway 1, Big Sur, CA