BIG SUR WEEKEND ADVENTURE: This event arranged by NorCal RPCVs is made possible by the generosity of former Congressman Sam Farr, RPCV Colombia 1964-66. Thanks to Sam and his wife Shary, we'll be enjoying a weekend at a magnificent grassy hillside, overlooking the world-class Big Sur coastline, with outdoor cooking, camping, campfires, and so much more.
WHEN: Friday afternoon, June 3rd - Sunday morning, June 5th
WHERE: Big Sur (directions after you register & complete the Tasks and Interests Survey)
WHO CAN COME: You and your family (children 12 and older). Maximum guests: 100, register early to reserve a place. Registration ends May, 25th but don't wait. Please, no dogs or other pets. Exception for legit ADA Certified service dogs.
ACCOMMODATIONS: Tents, Camper Vans, RV. There are restrooms with flush toilets on site.
COST: Just $50 per adult and $25 per 12 to 17 year-old covers the whole weekend. Included in the cost is your campsite, meals (see below) and event liability insurance. Drinks are not included but there is delicious spring water on site so bring your refillable water bottles.
Sorry, no refunds unless the event is canceled due to extreme weather, fires, or rock slides. If you have a change of plans and can't attend, please consider your ticket purchase a donation to the NorCal Peace Corps Association for its charitable purposes, including helping resettle refugees.
EVENTS: Music, food, drink, socializing, wine tasting, karaoke, yoga, competitive beanbag toss, off-site tours (see below), plus storytelling, marshmallow roasting, and lively conversation around the campfire each evening. There are hiking trails at nearby State Parks and one can hike up to the Hermitage, across Hwy 1.
MEALS: Friday evening will be Fiesta night with a variety of tacos and Saturday evening old fashion BBQ with hot dogs and hamburgers. There will be paper plates, utensils, and paper napkins available for all meals. Bring a drinking glass or mug. There will be vegan and vegetarian options at all meals. There will be a variety of choices for both breakfasts and a "make your own" sandwiches bar for Saturday lunch. Most food will be provided but, using a Tasks and Interests Survey, we'll ask some of you to bring side dishes or dessert.
VOLUNTEER: Every one should volunteer for at least one task e.g., bring a side dish, help with set-up, check-ins, meal prep or clean up. Registrants will receive a Tasks and Interests Survey document to choose their task and to let us know what they are of interested.
OFF SITE TOURS:
Visits to the Big Sur Lighthouse and the New Camaldoli Hermitage .
· Lighthouse tour: Sunday 1:30PM. The Lighthouse is one hour north of our event site; you can tour Sunday on your way home. The 3-hour tour is just for us and require at least 12 adults signed up so please sign up as soon as possible. You can sign up for this tour even if not joining us for the weekend retreat. See the NorCal Events Calendar to register.
· The New Camaldoli Hermitage is very close to our event site. The Hermitage community of monks live on an 899-acre compound at an elevation of 1300 feet, surrounded by California flora and fauna. There are great views of the ocean and the woods – a natural setting profoundly conducive to the contemplative way of life. The monks welcome visitors. There is even a gift shop where they sell their delicious world-famous brandy-infused fruit cake. We have scheduled two Saturday afternoon tours, each lasting approximately one hour. We'll carpool the short distance to the Hermitage. Tours are free, but please indicate your interest by completing the Tasks and Interests Survey, that you'll receive when you register for the weekend. Each tour is limited to 16 people. If there is sufficient interest, we will can additional tours.
We're looking forward to seeing everyone at this inaugural campout event. We hope it's the first of many for us to gather, connect, visit, and network.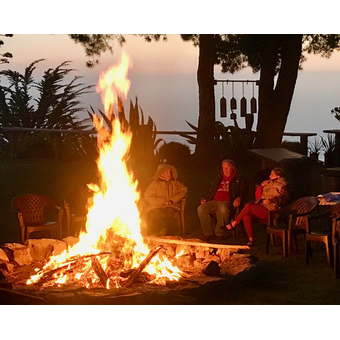 Big Sur, CA Highway 1 (directions to registrants only)