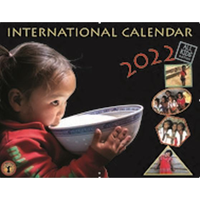 Each year the Madison, WI, RPCV group produces a spectacular calendar. This stunning calendar not only features photos of people in Peace Corps countries, but also many interesting facts about the countries and special events to commemorate every day of the year. Beautiful note cards with Peace Corps and international themes are available, too.
Calendars are $14.00 each plus shipping with the NorCal Discount Code.
You can buy calendars on the Madison RPCV website www.rpcvcalendar.org and click on "Shop".
Look for COUPON CODE on the shopping checkout page and enter our NorCal code in the box and click 'Go' to get discount and provide 50 % sales credit to NorCal PCA Grants.
If you do not enter the COUPON CODE NorCal will not receive credit
NorCal PCA Discount Coupon Code: PC4RPCVNCAL
If you have questions, contact calendars@norcalpca.org
---