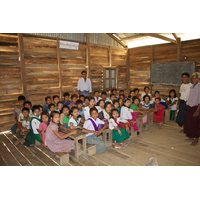 Congratulations to the NorCalPCA 2016 Grant Winners!
Thanks to your generous donations and calendar purchases, the NorCalPCA Grants Program was able to fund five community development projects this year for a total of $7,350! We hope you will continue to support NorCalPCA's Grants Program by making a donation and buying a 2017 International Calendar!
2016 Grantees
1. $2,000 for the African Library Project (ALP), a volunteer based organization in Berkeley, CA, founded in 2005. ALP recruits book drive organizers in the United States and Canada and matches them with rural schools in sub-Saharan Africa. Peace Corps Volunteers in the field are an integral part of their program. School villages agree to provide space, furniture, and library staff.

Our NorCalPCA Grant of $2,000 will be used to purchase 30 sets of HIV/AIDS readers for use in school libraries in southwest Kenya.
| | | | |
| --- | --- | --- | --- |
| | | 2. $2,000 to the Dokotoro Project, a volunteer organization founded by Mali RPCVs and based in Richmond, CA. NorCalPCA Member Matt Heberger is the Project Leader. In 2012, a small group of Mali RPCVs envisioned a monumental task: to translate and publish the book Where There Is No Doctor (Hesperian Health Guides) into Bambara, a language spoken by 10 million people in Mali and surrounding countries. Due to political unrest, Peace Corps/Mali suspended its program in 2012, but the RPCVs continued to work, calling on former Peace Corps staff and host-country counterparts to work with them. They hosted fundraisers, worked electronically with translators in Mali, and field-tested the results with health care professionals. In the process, they realized that the materials necessitated an updated West African French translation, too. The result is newly completed, appropriate health text and illustrations in both Bambara and French, ready to be printed and used. Our NorCalPCA Grant of $2,000 will provide 130 copies of Where There Is No Doctor to communities and local health centers in Mali. | |
3. $2,000 to Build a School in Burma (BSB), co-founded in 2010 by RPCV Andrew Lederer of Los Altos, CA. To date, over 20 schools have been built in underserved communities of Burma through the efforts of BSB, partnering with NGOs and local communities who want education for their young people. Phara Gyi School in Arakan State, near the India border, was completed in 2013 for 100 students, but 180 children showed up to learn. The original water and sanitation facilities were inadequate for the numbers and a major storm in 2014 washed the latrines away.

Our NorCalPCA Grant of $2,000 will be used to build two new school latrines and provide potable water. The latrines will be constructed from reinforced concrete to survive the local weather conditions.
4. $850 to Young Community Health Workers in Tsarasambo, Madagascar, a club of young people facilitated by Health Adviser and current PCV Jenna Smith from Pacifica, CA. Five representatives of the club attended 2016 Camp GLOW (Girls Leading Our World), a Peace Corps-led program for girls from throughout Madagascar. They returned with commitment to recruit their friends and create a program where they can promote the well-being of their community through activities that empower and educate them to make a difference. In the process the club members are learning valuable leadership skills.

Our NorCalPCA Grant of $850 will be used for gardening tools and materials, art and mural supplies, and readers in their Malagasy language.
5. $500 to the Children's Center in Baluti Village, Blantyre, Malawi. The project was proposed by Elaine Lo, RPCV Malawi 2007-2009, from Hayward, CA. The Chimwemwe Children's Center was founded in 2009 in response to increased children living on the streets. The organization focuses on youth between 10-25 years, especially those effected by HIV/AIDS, drugs, and mental health problems. The Center facilitates counseling and educational support. A new Children's Center is currently being built to continue and expand the resources available.

A NorCalPCA Grant of $850 will be used for windows and other building infrastructure.
---