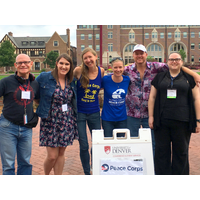 What is Peace Corps Connect?
At the beginning of August, hundreds of RPCVs came together in Denver for the National Peace Corps Association's (NPCA) annual Peace Corps Connect conference. The energy and excitement were tangible. Being around that many people who've shared as meaningful of an experience as Peace Corps is, was incredible. Over the weekend we heard from past and present leaders in the Peace Corps community and discussed a wide range of topics from education to immigration to storytelling to social entrepreneurship. One highlight was a spoken word presentation by Peace Corps staff Meleia Egger, whose inspiring words can be found below in "50 Years of Peace Corps" (video also available). A few photos of the weekend can be found on Facebook.
Advocacy at PCC
Multiple presentations focused or at least touched on the urgency to advocate for the Peace Corps. While we heard from retired Peace Corps directors about challenges faced in the past, we acknowledged that we must not take for granted that the Peace Corps has the resources and independence it needs to support volunteers and their invaluable work.
2018 Peace Corps Budget Update
Have you called our senators yet? The 2018 Fiscal Year budget has left the House showing a $12 million (2.7%) cut to the Peace Corps – the deepest cut in decades! This budget also proposes an overall 32% cut to the International Affairs Budget (this includes important programs like USAID). If you think that it doesn't make sense to cut critical funding for some of the most cost-effective, sustainable forms of international diplomacy, it's time to get involved!
So why call our Senators? Now that the FY2018 budget has left the House, it is under discussion in the Senate, with final numbers expected to be determined by mid-September! In California, both Senator Dianne Feinstein and Senator Kamala Harris are supportive of the Peace Corps, but they can always be more supportive, and should know that this matters to their constituents and that we appreciate their efforts. Your NorCalPCA Advocacy Coordinators and other NorCalPCA members have had in-person meetings with staff at both offices, but you are welcome to go chat with them again! Or call, email, or send a postcard. When asked if those efforts actually matter, Sen. Harris's staff responded with an enthusiastic yes! While Sen. Feinstein has historically shown great support, co-authoring Dear Colleague Letters and beyond, Sen. Harris is new. Exercising our right to tell our representatives about what's important to us is easy, invigorating, and fast. Give it a try now: Click-to-Call! Need more resources or motivation? Below find #ProtectPeaceCorps and Speed Advocacy slide decks from Peace Corps Connect.
Want to get even more involved or have questions? Email Advocacy@NorCalPCA.org
---