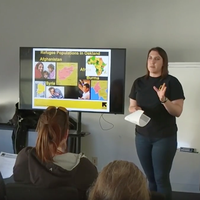 Thank you to everyone who joined us at the International Rescue Committee (IRC) in Oakland on Saturday, April 8th!
Kristen Boarsh, NorCalPCA Board Director and Volunteer & Language Support Coordinator for the IRC in Oakland gave an overview of the refugee crisis as well as providing ways for the local community to get involved.
The IRC in Oakland resettles almost 400 newly arrived refugees from 20 different countries each year. The IRC helps refugees adjust to their new lives by providing stabilization services such as locating and furnishing housing, applying for assistance programs like medical insurance and food stamps, and enrolling them and their children in school. The IRC also provides English as a Second Language and Employment classes to ensure that 75% of refugees who participate in the IRC's Early Employment program are employed within their first 6 months in the U.S. The IRC offers longer-term programs such as Intensive Case Management for the medically vulnerable, Career Development for professional advancement, and Immigration to connect them to the resources to adjust their status or petition for family members to join them in the U.S.
Some of the ways you can support local refugees include:
Please watch this video Kristen's Refugee 101 presentation to learn more about how you can support local refugees!
You can find out even more on IRC: Oakland's website at www.rescue.org/oakland.
Questions or comments? Email Kristen at KristenAtLarge@NorCalPCA.org.
---